Maurice Young Millennium Place
We developed the design for the sound and video systems at the Maurice Young Millennium Place in Whistler, BC. This unique facility is located on the north edge of Whistler Village, and serves as an Interfaith of worship, a music and performance theatre and a lecture/presentation theatre. We worked closely with DGBK Architects to integrate the sound and video systems into the architecture.

Wilhemsen Hall, the theatre space, seats up to 250. There is a permanent sound system to support worship and presentation events that features a centre voice channel and a stereo playabck system. The sound system features the capability of quick connection of outside rental sound equipment for theatrical productions without disturbing the function of the basic system which speeds the setup and changeover between events. There are extensive XLR audio panel patching capabilities provided to allow the maximum flexibility for audio production, or audio recording in this room. Additional audio trunk lines are provided between the control room and recording studio in the lower level.
Conventional theatrical requirements such as green room audio, preshow audio and announcements into the lobby, and production intercom cabling are provided.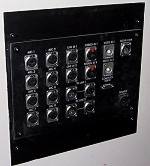 There is a presentation video system infrastructure provided to allow a rental or, eventually, a permanent video projector to be used for computer presentations, video tape playback or with portable video sources such as DVD, digital cameras, video camcorders etc. Presentations can be made from either side of the stage using the wall mounted connector plates. A large electric projection screen will support both video or 35mm slide presentations.
A touch panel control system supports conventional presentation uses in the room, allowing control of the audio and video systems.
This new facility offers Whistler residents and visitors a facility to enjoy a wide variety of events in a comfortable and modern theatre style setting. The A/V contractor was Allstar Show Industries of Burnaby, BC.

For more information on the facility and the event schedule visit the Maurice Young Millenium Place website.